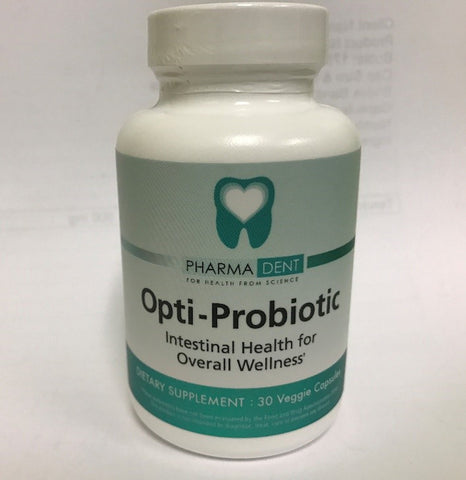 Opti-Probiotic contains a proprietary blend of 10 widely studied probiotics shown to benefit both the small and large intestine: Lactobacillus acidophilus, Lactobacillus plantarum, Lactobacillus casei, Lactobacillus lactis, Lactobacillus rhamnosus, Bifidobacterium bifidum, Bifidobacterium longum, Streptococcus thermophilus, and Propionibacterium freudenreichii. Probiotics included in the Opti Probiotic formula have been shown to lessen and or eliminate side effects associated with antibiotic use, including antibiotic associated diarrhea.  
Opti-Probiotic also contains Saccharomyces boulardii.  S. boulardii can recolonize and sustain flora in the large and small intestine.  S. boulardii has been researched at length for both safety and efficacy in reducing antibiotic associated diarrhea and has been proven to be one of the most effective treatments for C difficile.  S. boulardii also supports the recolonization of beneficial bacteria, competes for space with pathogenic bacteria and reduces the growth of Candida species thus lessening inflammation and supporting the immune system. 
Opti-Probiotic is manufactured utilizing MAKTrek® Bypass Technology: A complex marine polysaccharide designed to aid in protection from stomach acid and increase viable cells released in the intestines.
Opti-Probiotic includes MAKTabolite™ Postbiotic: A controlled level of metabolites from probiotic manufacturing demonstrating superior growth rate of lactic acid bacteria.
When consumed as directed it has a positive effect on the microflora in your gut.  Opti-Probiotic should be used by anyone on prescribed antibiotic therapy and Opti-Probiotic should be taken for 3 months after antibiotic therapy has stopped.  It is best to take Opti-Probiotic two hours before or after a prescribed antibiotic.  Opti-Probiotic would also be beneficial for anyone wanting to optimize his or her overall gut health on an ongoing basis. Opti-Probiotic also enhances healing and immune support for gum health when partnered with Opti-Gum Health.
Opti-Probiotic Patient Instructions:
For optimal benefit take 2 capsules daily, one in the morning and one in the evening, two hours before or after a prescribed antibiotic.  For general gut health take 1 capsule daily.
Suggested duration of use:
Staying on the probiotic after the antibiotic regimen and for how long is subjective. Some people enjoy the experience and stay on it for quite a while others stop it almost immediately. We recommend continuing use for 1 to 2 months. Additionally, we recommend switching probiotic brands every 6 months of continued use to encourage diversity.